Room for Seven in a Spacious Package.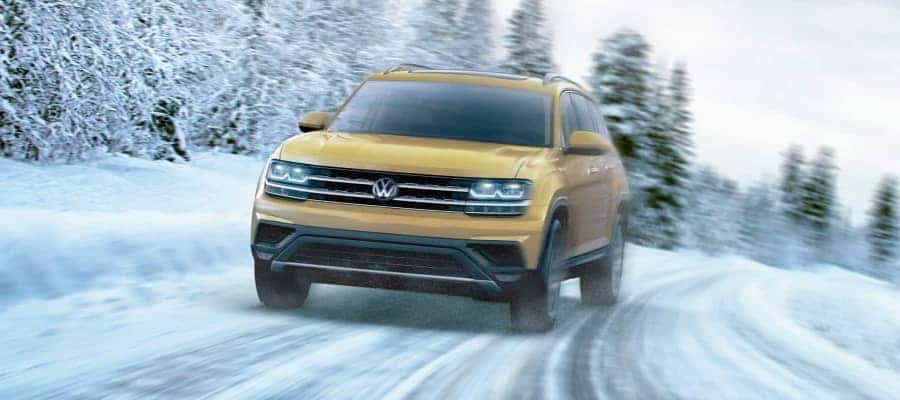 The Volkswagen Atlas
Volkswagen's 1959 "Think Small" ad campaign has been ranked as one of the best of the century by Ad Age and defined the company for decades. Fast forward 62 years, and how things change. "Think Atlas" might be a better ad for today's Volkswagen because it is a popular seven-passenger SUV that is larger than any other vehicle in the company. Engineered from VW's MQB platform architecture, Atlas is 200.7 inches long, 78.4 inches wide, and 70.1 inches high. It is assembled in Chattanooga, Tenn., and typifies how the automotive industry has changed and evolved to suit the needs of families on the go. Carpooling in a 1959 Beetle would be a challenge. Of course, Volkswagen also builds smaller vehicles, and, in fact, has recently introduced a 2022 compact SUV called the Taos that will go on sale in the second quarter of 2021. A whole family of electric cars is on the
way, as well. But back to the Atlas. Because it slots into a segment populated with vehicles such as the Honda Pilot, Toyota Highlander, Kia Telluride, Ford Explorer, and Mazda CX-9, the Atlas has three-row seating and a spacious interior. For folks who want a sportier version, the Atlas Cross Sport has two rows of seats and a slightly lower roofline. The Atlas comes in eight different trim levels. The base S, with a four-cylinder, starts at $31,555. Add 4Motion all-wheel drive and the base price is $33,455. Models SE w/Technology and above are equipped with the VR6 engine.
ATLAS SEL PREMIUM


Engine: 3.6-liter, 276-horsepower VR6
Transmission: 8-speed automatic
4Motion all-wheel drive
Wheelbase: 117.3 inches
Curb weight: 4,614 pounds
Base price: $48,995
As driven: $50,825
MPG rating: 16 in the city, 22 on the highway
Prices start at $38,345 for front wheel drive and $40,245 for all-wheel drive. The model I drove, an SEL Premium, had a base price of $48,995 and a sticker price of $50,825. Before we go any further let's take a quick look at the two available engines. The 2.0-liter, turbocharged four-cylinder develops 235 horsepower and 258 pound-feet of torque from a low 1,600 rpm. That should give it good off-the-line throttle response. The 3.6-liter, narrow-angle VR6 has direct-injection and it cranks out 276 horsepower 266 pound-feet of torque. This engine utilizes a crossflow aluminum-alloy cylinder head design, twin overhead camshafts, four valves per cylinder, and variable valve timing. It is capable of towing 5,000 pounds. Fuel economy is rated at 16 miles per gallon in the city and 22 on the highway. Each engine is coupled to an eight-speed automatic
transmission. Volkswagen's 4Motion all-wheel drive system drives the front wheels under light load, but a center differential adds power to the rear wheels in a fraction of second, as conditions require. An advanced control unit activates a multi-plate clutch in the center differential and quells wheelspin almost before it begins. The center differential also functions as part of the electronic stability control and can briefly brake a wheel that is slipping. The 4Motion system has four settings: On-road, Off-road, Snow, and Custom On-road.
A generous cabin is the heart of an SUV and the Atlas doesn't disappoint. It makes maximum use of its three-row seating layout to offer space for up to seven adults, boasting a cavernous 154 cu-ft of total passenger volume. Headroom is generous, and rear seat legroom, at 37.6 inches, is huge. The second-row bench seat splits 60/40, reclines and can slide forward up to 7.7 inches. The second row folds and slides forward, even with a child seat in place, to provide easy entry to the third seat. Maximum cargo volume is 96.8 cubic feet when all rear seats are folded down. Cargo capacity is 55.5 cubic feet with the third seat folded and a smallish 20.6 cubic feet when all seats are up. Second-row captain's chairs are an option on models above SE w/ Technology. The Atlas interior is classic Volkswagen: clean and functional, with a premium feel. Driver controls are positioned for ease of use. A 10-inch TFT instrument display offers 21 viewing options, including digital gauges, car status, navigation, driving data, phone information, and driver assistance features. The driver can even select a full-screen navigation view. A center touchscreen controls many of the vehicle's functions as well as smart-phone
connection. The seat position, shifter height, and the spacing between the pedals are all designed to suit drivers of all sizes. Overhead, roof rails are standard should you need to add a rack for cargo. A power tailgate is standard on the Atlas SE, while on the SE w/ Technology and higher models the tailgate can be opened with a kick of the foot below the rear bumper when the key is in range. That's a huge benefit when your arms are full of grocery bags. As one would expect, the Atlas is brimming with technology. Items such as lane-keeping assist, blind spot monitor, adaptive cruise control, emergency braking are all available. But going one step further, the Atlas has "maneuver braking" that detects static obstacles front and rear while moving between 1 and 6 miles per hour and applies the brakes. Great for avoiding bikes in driveways, shopping carts, and such like. Park steering assist is available on the SEL Premium and it can automatically steer the vehicle into parallel and perpendicular parking spaces (the latter both forward and
in reverse). When it comes to vehicle connectivity, Atlas can connect to smart phones and has Apple Car Play, Android Auto, and Mirror Link. Volkswagen Car-Net has several features such as Remote Access, Safe and Secure, and Hotspot. Safe and Secure is a subscription service that offers automatic crash notification, emergency assistance, anti-theft alert, and stolen vehicle assistance. The price is $99 for one year. The Hotspot connects through Verizon or T-Mobile for $20 a month. Atlas has a four-years, 50,000-mile warranty and the 10,000- and 20,000-mile scheduled maintenance services are free for two years or 20,000 miles.
ABOUT THE AUTHOR / PHOTOGRAPHER
Tom Strongman has a degree in photojournalism from the University of Missouri and was formerly the director of photography and then the automotive editor of The Kansas City Star. Tom, a member of the Missouri Press Association Photojournalism Hall of Fame, has written about and photographed cars for more than three decades.